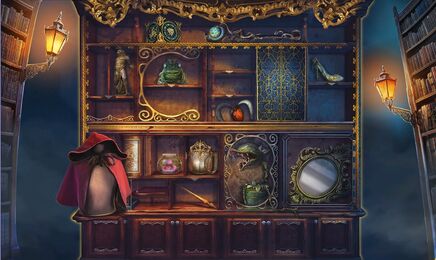 Souvenirs is an extra content feature unlocked after completing the main and bonus games of The Thief and the Tinderbox. The player revisits places from the games to search for objects that relate to previous Dark Parables (the exception is the candlestick which is a teaser). There are 12 souvenirs in total and finding all souvenirs will earn the player an Achievement entitled "Supreme Achiever".
Images of Souvenirs
Edit
Souvenirs Menu
Edit
Mouseover Comments by Fairytale Detective
Edit
"It's a spindle ... I better watch my fingers."
"The Frog Prince, as handsome as ever."
"Mirror, mirror, tell me true ..."
"A Red Riding Sister's robe ... Probably dropped when they visited Snow White."
"A glass slipper! One of the Cinderellas must've been here in the past."
"Magic beans! Too bad there's no Sky Kingdom anymore."
"I just hope Rapunzel's still keeping Belladonna's powers under control."
"Staff of the Ancients. It used to belong to the Sea Goddess."
"The Beast ... Reminds me of some close calls I've had with dangerous creatures."
"I remember a cube just like this one, I used it to activate the Fallen Star."
"A magic seed ... I wonder how the new Swan Princess is holding up."
"It's no ordinary candlestick. I wonder where it came from ..."
Ad blocker interference detected!
Wikia is a free-to-use site that makes money from advertising. We have a modified experience for viewers using ad blockers

Wikia is not accessible if you've made further modifications. Remove the custom ad blocker rule(s) and the page will load as expected.